FIMER MS 2000 Complete Conversion Unit is a MEGASTATION, 20' cabin with indoor trafo, with a power size up to 2.000 kVA.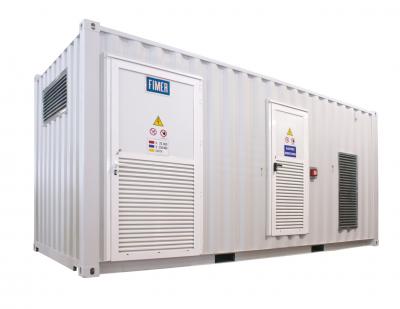 MEGASTATION is a complete "turnkey" solution for the conversion of energy produced by large PV installation into electricity feed into the MV distribution grid. Thanks to the flexibility of the different sizes of power and the ease of connection and commissioning they provide fast installation extremely quick and rapid.
Maximum efficiency and energy production, other than service downtime reduced
FIMER MS 2000 MEGASTATIONS maximize the efficiency and performance of a solar park thanks to the use of central inverters FIMER R series with modular architecture of power (Modular Power System, patented by FIMER). Using FIMER modular inverters within MEGASTATION it is possible not only to maximize the efficiency and performance of the system, but also to reduce the downtime the service is also extremely rapid and available to restore easily the malfunction occurred to your conversion station. The Modular Power System gives therefore the absolute certainty of the production of energy. Partializing the full power of each inverter, even in case of failure, your solar installation will never stop producing energy. Another power converter module  will think to exploit and compensate for the production.
… and many other advantages 
Flexibility and scalability of the configuration.
A wide and complete range of power.
Since it is directly manufactured and tested in factory,  installation time is reduced and the assembly in plant is avoided.
Differentiated management of the photovoltaic generator and optimization in sub-field.
Designed in such a way as to be easily serviced periodically due to the easy accessibility of all installed devices.
Highlights
Apparent power AC: up to 2000 kVA
MV Operating voltage : up to 40,5 kV
MPPT voltage range :   675 - 1000VDC
Very compact and extremely robust design
Complete PLUG & PLAY solution.
Tested and assembled before deliver.
Modular and scalable size of power.
Fully waterproof and insulated to withstand over time.
High reliability to ensure easy maintainability.
Fixing of all devices at the native structures of the container guarantee maximum stability of the station.
Complete range of standard equipment, with customizable request of options.