The REACT-MTR-1PH is a four-quadrant energy meter designed for residential buildings application.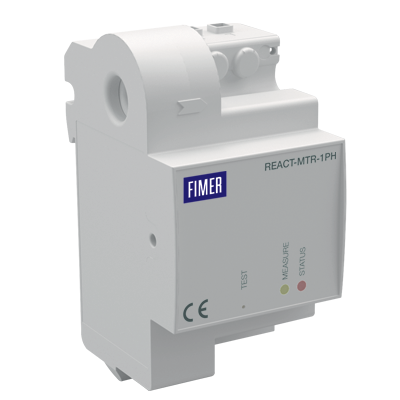 REACT-MTR1-PH is a single phase meter up to 30 A.
The exceptional low power consumption of the meter, less than 1 VA, makes it economical in the long run.

With its compact design, it provides a wide variety of electrical measurements to FIMER inverters via RS-485 communication bus
Communication
Data (electrical measurament) can be collected via built-in serial communication interface (RS-485).

Electrical measurements 
REACT-MTR-1PH meter support large number of electrical data 
readings. In particular: 
 
Active power, reactive power, apparent power,  
Voltage 
Current 
Power factor
Frequency
For the compatible FIMER inverter list refer to the document "Meters supported by FIMER string inverters and the VSN700-05 Data Logger" available in the download section.