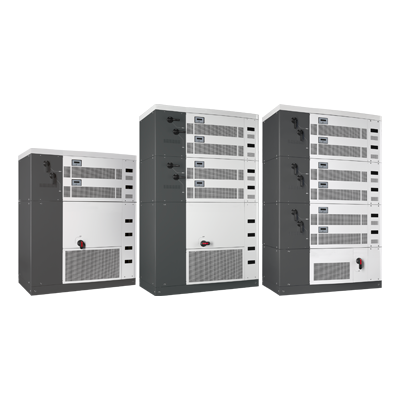 FIMER's central inverters are extremely scalable, modular inverter systems that are based on 55 kW modular blocks.
This increases usable power and improves availability. The reduction of performance in any individual module will not impact the energy harvesting capabilities of the other modules.
The product is available with and without a transformer. The industry leading power conversion efficiencies of up to 98% (-TL), combined with high-speed Maximum Power Point Tracking (MPPT) channels, optimize energy harvesting across a wide array of operating conditions.
These commercial inverters provide maximum DC input voltage up to 1000 Vdc, high design flexibility and reduced DC distribution losses for large scale PV plants.
 
Highlights
Reduced susceptibility to a single fault in case of a component failure, a maximum of 55 kW will be lost
Reduced acoustic noise due to the high switching frequency
Reverse-polarity protection minimizes potential damage caused by array miswiring
Integrated DC and AC distribution and protection fully equipped for connection, additional accessories not required