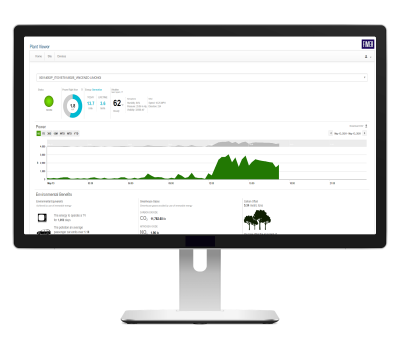 Plant Viewer is a user-friendly browser based monitoring solution perfect for people who are not professionals. Plant Viewer allows homeowners and business users to track energy produced on a solar power plant in a simple and intuitive fashion. Plant Viewer users can track key energy metrics as well as the energy produced throughout the lifetime of their solar power plant. Depending on the type of inverters installed, Plant Viewer users can view energy produced from individual solar panels located on their plant.
Plant Viewer is fully integrated with Aurora Vision's Plant Portfolio Manager product providing a two-tiered monitoring solution.
Tier 1: Solar professionals using Plant Portfolio Manager can grant their customers access to Plant Viewer for any and all plants in their portfolio. This means the full monitoring feature set of Aurora Vision can be used to monitor and manage all their customers' solar power plants.
Tier 2: Non-professionals can be granted access to Plant Viewer to track the energy produced at a site in an easy to use manner without interfering with installation or operation of the solar power plant.
For those people who want sole control of their solar power system, a stand-alone portal can be created allowing a Plant Viewer user sole control of their solar power plant.