Let's create the future. Together.
A New Era is here. This is our chance to change solar for the better. When you dare to be brave, the possibilities are endless.
So, are you ready?
Global demand for renewable energy is growing. By 2040 the market will be worth up to $7.2 trillion. It's time to define the future of sustainable energy production. 
For installers. For end-customers. And for the planet.
We want to partner with progressive installers. Installers who want to take their business to the next level. Who share our passion and ambition to make a difference. 
Installers like you.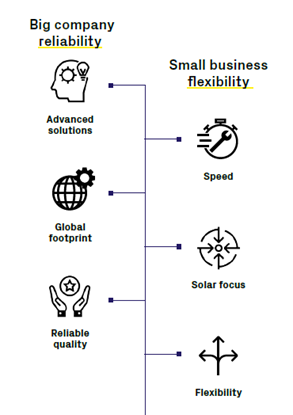 Why install FIMER's products?
With the broadest solar portfolio on the market, our focus is on creating a bold future.
This means pushing innovation and flexibility as far as they can go. Our global research centres mean we can empower you with cutting edge technology.
Every day we strive to offer you reliable solutions so that together we can build a world powered by sustainable energy. 
FIMER is a global company:
1,100+ employees
5 continents, 26 countries
3 production sites
2 research & development sites
 
Work with us and join FIMER's Installer Program
We want to support like-minded installers wanting to provide quality products packed with the latest technology and features for great value.
Get access to a whole range of warranty, service, marketing and sales benefits. 
We offer the broadest product offering
AS/NZS 4777.2:2020 Firmware updates
FIMER's inverter range will require a firmware update at the time of installation. Application notes with instructions for each product can be downloaded below.
UNO-DM-PLUS-Q 2-6 kW | PVS-10/33 | PVS-100/120 | PVS-175*
*Coming soon
Quality matters.
We design our inverters, batteries and EV Chargers with quality in mind. 
Our products are manufactured in Italy, utilising quality components and then rigorously tested in our research & development labs to ensure they are built to withstand climates from Australia to Antarctica. We then back that up with experienced local support and solid warranties that your business and customers can rely on.
Performance matters.
In-built technology that you can count on every day.
Every FIMER product has industry-leading technology built-in to ensure your solar system's performance is as efficient as possible. 
All our inverters include FIMER PowerGain Technology to ensure optimal generation even in shading.
Flexibility matters.
We know every install is different. We offer the ultimate flexibility for commercial businesses.
Our commercial products can integrate seamlessly, enabling you to design solar systems for any business requirements.
From 10kW to 120kW, you can pair any FIMER commercial inverter together.
Value matters.
Premium quality for less. That's FIMER.
Our inverters offer premium European quality, plus all the features you need at a value for money price unlike others in the market.
Italian made | All in one system | Leading technology | Free monitoring | Local support & more
Design, monitor and manage your installs
String Sizing Tool
String Sizing Tool is a free, web-based resource that enables designers to determine the optimum string size for a specific photovoltaic module and FIMER solar inverter combination.
This tool requires users to specify the design site location, low and high temperatures, the PV panel and the inverter. Once these criteria are selected, the tool calculates all the allowable string configurations which provide the designer with options to choose the most appropriate design for the solar installation.
Plant Portfolio Manager
Provides the tools needed to complete the installation and operation of a power plant of any size.
Create new customer accounts, set up new power plants and provision monitoring at a givAen plant

Configure, operate and troubleshoot devices throughout your portfolio of power plants

Generate custom and scheduled reports for billing, finance and customers

Remotely upgrade inverter firmware

Evaluate the performance of a solar plant and detecting real-time underperforming conditions
FIMER Energy Viewer App
FIMER's Energy Viewer enables your customers to keep track of their system production data and consumption* anytime, anywhere.
An easy to use mobile application allows solar owners to remotely monitor their system's energy flows and performance, with or without an energy storage system installed.
Energy Viewer users can view all energy coming into and out of their system while keeping track of energy self-consumption as well as energy self-sufficiency.
You and your customers can demo it here.
Energy Viewer is free of charge with any FIMER solar system. 
* Export limitation and consumption monitoring requires the installation of a compatible Smart Energy Meter.