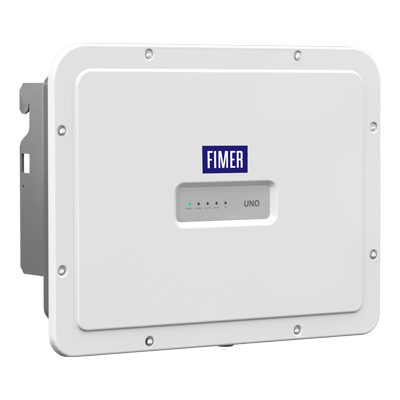 The UNO-DM-6.0-TL-PLUS-Q single-phase inverter is an upgrade of the proven UNO family and is an optimal solution for residential installations.
The inverter allows high performance in a minimum space and has a dual Maximum Power Point Tracker (2 MPPT).
Easy to install, fast to commission
The presence of Plug and Play connectors, both on the DC and AC side, as well as the wireless communication, enable a simple, fast and safe installation without the need of opening the front cover of the inverter.
The featured easy commissioning routine removes the need for a long configuration process, resulting in lower installation time and costs.
Smart capabilities
The embedded logging capabilities and direct transferring of the data to Internet (via Ethernet or WLAN) allow customers to enjoy the whole Aurora Vision® remote monitoring experience.
Energy Viewer 
This tool allows residential customers to remotely monitor the performance of their own solar plant and provides all information necessary to increase energy self-reliance and self-sufficiency.
Highlights
Wireless access to the embedded Web User Interface
Easy commissioning capability
Future-proof with embedded connectivity for smart building and smart grid integration
Dynamic feed-in control (including zero injection)
Remote firmware upgrade for inverter and components
Thanks to our new 10-year extended warranty program for the UNO-DM-PLUS-Q family across Europe, you can finally relax and enjoy your PV system even more.