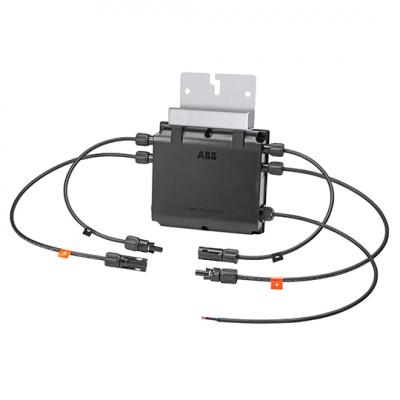 NOTICE: This product is no longer available.
Under the Panel
The second generation FIMER rapid shutdown solution for 600V systems is even easier to implement. This behind the module product provides a fail-safe solution for emergency responders to eliminate voltage at the PV array in compliance with NEC 2014 Rapid Shutdown code requirements. The FIMER Rapid Shutdown system requires no extra conduit; minimizing additional material cost and associated labor.
Shutdown occurs at the rooftop box when utility power is lost or when the PV system's AC disconnect switch is opened. The Rapid Shutdown box can mount directly to the PV mounting rail or PV module and lay parallel to the roofing surface. The NEMA 4X design permits installation angles from 0-90° while maintaining its water-tight seal from snow and rain.
Two models are available to cover all system configurations; including a single input/output version and a two-input/two-output version. The unique features of each box can be used to maintain the specific configuration of the PV system. Dual outputs in the box maintain the benefits of FIMER's dual MPPT inverter channels, while the single output box is perfect for small PV arrays utilizing one MPPT channel or systems requiring two rapid shutdown boxes. To further reduce system cost, the input channels are rated up to 25A allowing paralleled strings on one input.