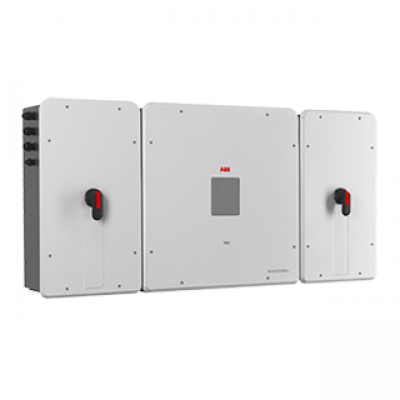 Experience the ultimate in design flexibility alongside the maximum power output
TRIO-TM-60-US-480
The TRIO-TM-60 is a three-phase commercial string inverter that offers three independent Multiple Power Point Trackers (MPPT) to answer virtually any challenging design. Designed with the customer's needs in mind, this solar inverter can be installed horizontally or vertically and in direct sunlight.
Design Flexibility
Ideal for large commercial and small utility projects, this string inverter has a double-stage topology for a wide input range. The AC and DC compartments are separate and configurable which means designers can customize the inverter to further meet the project requirements; additionally, installation and maintenance is easier with the modular design. The TRIO-TM-60 comes with the most complete wiring box configurations including up to 15 DC inputs with fast connectors, string protection fuses, AC and DC switches and type II AC and DC surge arresters.
Digital Connection
Commissioning is simple with the built-in Web User Interface (WUI). The installer can commission the inverter wirelessly and change advanced parameters by using any standard WLAN enabled device like a smartphone, tablet or PC. The embedded multi communication interfaces (WLAN, Ethernet, RS485) combined with a Sunspec™ compliant Modbus protocol (RTU/TCP enables the inverter to be easily integrated with any third-party monitoring and control system.
Built with new proven quality testing procedures, this inverter comes standard with a 10-year warranty. We offer online training and a knowledgeable technical support team to help with any installation need.